About Waverley
The proclamation of the Municipality of Waverley occurred on June 13, 1859, confirming Waverley's place as the second suburb of Sydney to be constituted a Municipality.
Located on the traditional lands of the Eora nation, the landscape of Waverley has been recognised throughout history by the traditional owners, residents and visitors alike as one of outstanding natural beauty. The coastline and beach environment has always attracted naturalists and nature lovers, and has undergone many transformations. From cattle farms in the 1830s, to large houses and estates along the cliff sides in the 1860s, the creation of Waverley Cemetery in 1877, the home of the first life saving club in Australia, to hosting Olympic sporting events in 2000, the coastline and the land around it have informed and created the communities that have thrived here. Waverley Council incorporated the suburbs of Bondi Junction, Bronte, Clovelly, Dover Heights, Tamarama, part of Rose Bay, Vaucluse and Waverley, with over 72,000 residents living in an area of 9km2 .
The first Waverley Municipal Election was held on July 14, 1859 where nine councillors were elected, with John Birrell acting as chairman. The inaugural meeting of Waverley Municipal Council was held on July 23, 1859. As there was no permanent office for the conduct of council business, early meetings were held at the Charing Cross Hotel and in the old School of Arts building on Bronte Road. By 1861 the new Council Chambers had been built on Bondi Rd, then known as Waverley St, where business was conducted until 1913 when the council moved to its present location in Waverley Park. There have been considerable renovation projects over the years, but there are still some remnants of the original building within the modern Chambers that stands today.
Waverley moments Waverley people Waverley place names Waverley through time Waverley's Places Waverley's wildlife
Image library- The wonder of WaverleyFind photos that illustrate Waverley's history, from buildings and streets to the people who've played a role in creating the city. Our gallery contain thousands of archival images of the city area and its daily life.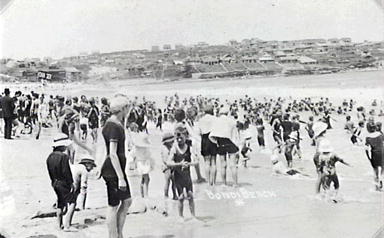 Newsletter
Keep up with events, promotions and news from Waverley Library with our monthly eNewsletter Subscribe now