Frontline coastal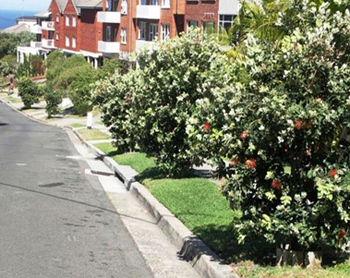 These areas are directly exposed to strong salt-laden winds. The original vegetation would have consisted of low, wind pruned heath plants. The soils are sandy and skeletal with little or no organic matter and are often only a thin layer over a bedrock of sandstone.
The areas range from the strip of cliff tops from Dover Heights and Vaucluse, down to the North Bondi headlands including Bondi Beach and headlands south to Clovelly. It also includes some streets directly exposed to southerly winds.
Choosing suitable trees for this zone is difficult and the species listed below are recognised as performing moderately well given the extreme conditions.
Streetscape Character
In Dover Heights and Vaucluse the coastal streets are generally wide with expansive grassy naturestrips. This is usually ideal for optimum growth of street trees; however, these wide streets are mostly exposed with little protection from direct salt laden winds. Harsh conditions and occasional poor tree selection have resulted in bare appearances in some streets.
The footpaths in the commercial zones around Bondi are mostly concreted and require specific species selection and robust protection in the form of solid tree guards.
Dominant Trees
| Common name | Botanical name |
| --- | --- |
| Coastal Banksia | Banksia integrifolia |
| Bracelet Honey Myrtle | Melaleuca armillaris |
| Bottlebrush | Callistemon 'Kings Park Special' |
| New Zealand Christmas Bush | Metrosideros excelsa |
| Norfolk Island Pine | Araucaria heterophylla |

Issues and Considerations
Number of declining street trees (mostly New Zealand Christmas Bush -Metrosideros excelsa)
Exposure to coastal winds and poor soil quality limits species selection
Low number of streets with overhead wires but views to the ocean to be considered with species selection
Strategies
To improve tree planting and protection conditions to enable a greater percentage of tree survival.
Create a distinctive local character through the use of coastal tolerant trees
Actions
Choose trees from the accompanying table of coastal tolerant trees.
Increase width of planting hole to a minimum of one metre and incorporate quality native soil mix and water crystals
If planting in areas of concrete footpath, the planting hole must be a minimum size of 1metre x 1 metre. Root barriers to be installed to minimise any potential footpath damage
Only plant trees that have been 'hardened off' to coastal conditions
Use tree guards with hessian surrounds to provide extra protection
In wider nature strips trial planting coastal tolerant shrubs as a barrier around the tree
Preferred Tree Species
*= may only be available from specialist native nurseries
Subscribe to our Enviro newsletter
Get the latest news and tips on creating an environmentally sustainable community, free eco-wise workshops and events, delivered straight to your inbox each month. Read some of our latest newsletters online now, or subscribe by clicking the button below.


Subscribe now