Exposed ridgetops & shallow soils over sandstone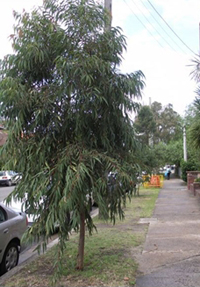 The exposed ridgetops are the dominant ridge-lines of Charing Cross, Bondi Junction, and Bondi with their exposure to southerly and westerly winds and Dover Heights where the ridgetops experience strong salt laden coastal winds.
The areas of shallow soils over a bedrock of sandstone are found throughout Bondi Junction and the streets of Dover Heights, Waverley and Bronte. The original vegetation of these areas consisted of low heath plants growing on sandstone.
Both areas have minimal or restricted soil depth for root growth.
Streetscape Character
The streets are extremely varied from the wide grassy nature strips in Dover Heights and parts of Bronte to the concrete or asphalt footpaths in the streets around the commercial zones of Bondi Junction and Charing Cross.
Dominant Trees
| Common name | Botanical name |
| --- | --- |
| Coastal Banksia | Banksia integrifolia |
| Bracelet Honey Myrtle | Melaleuca armillaris |
| Swamp Paperbark | Melaleuca quinquenervia |
| Bottlebrush | Callistemon 'Kings Park Special' |
| Watergum | Tristaniopsis laurina |
| Casuarina | Casuarina glauca |
Issues and Considerations
Medium sized native trees may be more adaptable to soils with minimal water and nutrient retention
Poor drainage likely in areas of exposed bedrock
Strategies
To use species that are tolerant of periods of drought and restricted root run
Generally improve the planting conditions of all new trees to increase the survival rate of tree planting
Actions
Determine planting locations on the tree database that are exposed to strong winds or known to have poor soil depth
Investigate the use of improved watering methods by incorporating more water inlets
Investigate the use of wider planting holes and structural soils in concrete and asphalt footpaths
Encourage the use of permeable paving and paving surfaces for concrete or asphalt surfaces

Preferred Tree Species
*= may only be available from specialist native nurseries
Subscribe to our Enviro newsletter
Get the latest news and tips on creating an environmentally sustainable community, free eco-wise workshops and events, delivered straight to your inbox each month. Read some of our latest newsletters online now, or subscribe by clicking the button below.


Subscribe now