PayStay
Pay for parking using your mobile phone with PayStay
We have introduced smart phone technology to make parking more convenient. PayStay allows you to park without having to search for coins or trekking to a meter.
Getting Started With PayStay
There are three easy steps to use PayStay
1. Set up your account
Download the app from the App Store or Google Play Store
To set up your account via phone or for support, call 1300 322 111
To register, you'll need to input
your phone number
some personal details
a credit or debit card
vehicle registration (you can input up to 10 registration numbers per account)
2. Begin your parking session
Before you leave your vehicle:
open the PayStay app or call 1300 322 111
select your vehicle registration
enter the 8 digit PayStay zone number displayed on the PayStay sign
select start
You can elect to receive an SMS reminder* from PayStay when your session is due to expire through the app. (a fee applies)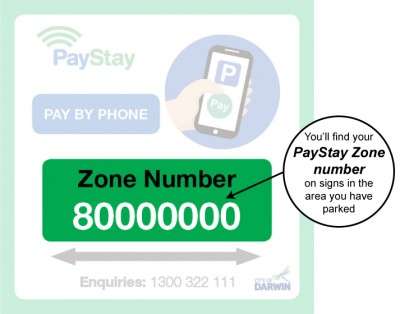 3. End your parking session
When you return to your vehicle:
Open the PayStay app or call 1300 322 111
Locate your session select stop
PayStay Tips
If you don't stop the session, you'll be charged the maximum fee for that parking zone.
If you wish to park for longer than the time on the sign (for example, more than two hours in a '2P' area), you must first move your vehicle to a new PayStay zone (this means the zone number changes).
Watch the Video
You can now pay for metered parking in Waverley using your mobile phone. You no longer need to pay at a meter and display the paper ticket on your vehicle. All you need to do is download the PayStay app, which is available on iPhone and Android devices or by registering at paystay.com.au. Just look for the PayStay details on the parking meter and on the parking sign.
Watch this short video to see how to use the app and read our FAQs (Frequently Asked Questions) below or here.
Please note, normal payment methods for parking meters will remain in place.
PayStay's instructional video provides simple instructions on how to use the mobile phone app.


Frequently Asked Questions
We've put together some of the most frequently asked questions about PayStay to help get you started. If you'd like to find out more information the PayStay website is a handy resource.
Do I have to be registered to use PayStay?
Yes, you must be registered before you can use PayStay, using one of these options:
Register online at paystay.com.au and complete the registration process as prompted
Call PayStay on 1300 322 111 (Monday to Friday, 9am – 5pm).
How do I know what my zone is?
Your zone number will be an 8 digit number directly beneath the parking signs where you parked.
How do I pay for parking if i don't have a smart phone?
You can continue to pay by cash or credit card at the meter. You can also call 1300 322 111 (Monday to Friday, 9am – 5pm) to pay for parking using your phone. All you have to do is provide the same details you would provide on the app via the phone.
How do I start and stop a parking session?
Are there any fees or charges that apply in addition to the Parking Fees?
Yes, there is a $0.15c transaction fee per parking session. Additional fees may apply for other app functions. Further information is available in the Terms of Use at paystay.com.au or by calling 1300 322 111 (Monday to Friday, 9am – 5pm).
Can I pre-set the duration of my parking session using PayStay?
Yes you can. While PayStay offers the ability to Start and Stop parking sessions and only pay for the time used, it also provides the ability to pre-select a duration of time you wish to park for. On the 'Create Ticket' screen simply slide the time selection bar to choose the amount of time you wish to park. When your parking session expires PayStay will send a notification to your phone. If you would like to stay longer (without overstaying the sign-posted time restriction) you can simply start another session.
What if I forget to stop my parking session?
You will be charged the maximum amount for the sign-posted area. For example, if you are in an area with 4P signs you will be charged 4 hours x the hourly fee. You may consider using the reminder message service for a small fee.
Can I renew my session once I've reached the parking time limit?
No, this is considered an overstay. The maximum time allocated to a PayStay session does not go beyond the allocated parking time zone (eg 2P signage = 2 hour max session). Infringements can be issued for any overstay in a parking time zone.
Timed areas are signed accordingly (e.g. 2P = 2 hour maximum parking). There have been no changes to the location of parking zones across the city.
Can I get a refund for an overcharged amount if I forgot to stop the session?
You can request a review by contacting Waverley Council at info@waverley.nsw.gov.au. You should provide any evidence which supports you leaving the area prior to the length of time charged.
What do I do if I'm having difficulty downloading the PayStay app and/or logging into paystay.com.au?