North Bondi Kids Pool Permanent Artwork Wanted
Overview
Waverley Council is currently seeking Registrations of Interest from artists, architects and designers interested in creating a permanent large-scale wall artwork along the wall overlooking the Kids Pool located at North Bondi.
Design proposals should:
Respond to the history of the site
Give strong consideration given to the demographic of children and young families that frequent the North Bondi Kids Pool
Contain references to the oceanic environmental context, involve aspects of mosaic throughout the design, and involve functional, educational and interactive elements aimed at engaging children will be highly considered
Adhere to all Local Environment Plan (LEP) controls for the site in the design processes, with no marketing, advertising, or product placement to appear anywhere within the design
Provide strong consideration to sustainability in the materiality and ongoing maintenance of the artwork
Design proposals that incorporate aspects of Indigenous local history and have established relationships and permissions with local Indigenous artists will be highly regarded
There are future plans for further work in Bidjigal Reserve including the renewal of the landscape and structural elements in the park. Proposals for the wall should also contain elements that can be developed into the expanded upgrade in coming years
How to apply
Registrations of Interest closed on 25 October 2020.
Background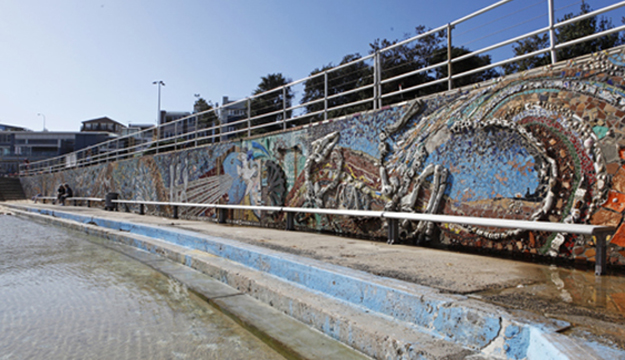 The North Bondi Kids Pool mosaic artwork wall was installed over thirty years ago in the 1980s. The artwork was created by a group of local artists and members of the community with the project overall being led by artist Lloyd Kellerman. Extensive community engagement sessions were run in the Bondi Pavilion building to ensure the design reflected the thoughts feelings and values of community. The installation of the artwork took a year and was coordinated by community volunteers including local Primary and high school groups, and local community groups.
Due to identified concrete cancer and damages to the drainage system under the promenade, Waverley Council will be replacing the seawall and mosaic artwork for safety purposes. Council spent 12 months looking at ways to recommission the mosaic, however due to the total budget required to deliver the recommission of the mosaic at the North Bondi Children's Pool of over $500, 000, Council decided it would instead request for quotation for a new artwork to be installed in the space in July 2020. The mosaic was removed in April 2019, the pieces of the mosaic that were saved in the process will be rehoused in the Council's Local Studies collection and will always have a place in the history of our community.
Next steps
25 October 2020 – Registration of Interest close
November 2020 - Concept designs will be presented to the Waverley Public Art Committee for review and shortlist selection
February 2021 – Community will have the opportunity to have their say on their preferred concept design out of the shortlist
April 2021 – Preferred concept design to go to Council
July/ August 2021 – Installation commences
More information
Contact the Visual Arts Program Co-ordinator at visualarts@waverley.nsw.gov.au