Morris Eskin & Natanya Gross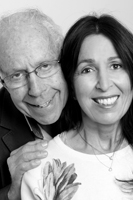 "I'm passing down not only the food to my children, but a history and the stories that go with it about their ancestors."
Morris Eskin (Father): I was born in Shanghai, China in 1936.
I arrived in Australia in March 1954.
Natanya Gross (Daughter): I was born in Sydney, Australia in 1964.
Coming to Australia
I can only say one word that really, I consider myself fortunate in very capital letters, fortunate not just for myself, but at that time, for my parents, my family at that time, and of course my future family at that time, my current family over here.
Heritage through food
I think the importance of food is that it really can connect you to your heritage, to your heritage generally, and then specifically to your family heritage. For me, to reproduce food, even if I tweak it in a more modern way, from what my grandparents ate and their parents ate what I feel I'm doing is I'm passing down not only the food to my children, but a history and the stories that go with it about their ancestors.
Key Migration Wave - Jews from China
There were three main Jewish ethnic groups in China: the Sephardi Jews from the Middle East in Shanghai; the White Russians, who fled Russia under the Tsars and the Communists and mainly settled in Harbin and Tientsin; and the Jewish refugees from Nazism who fled to Shanghai in 1938-1940. At the end of World War II, the Chinese Nationalists demanded the expulsion of the stateless European Jews, few of whom wished to return to Europe. In addition, most of the Sephardi and Jewish White Russians in Harbin and Tientsin decided to leave China with the Communist takeover in 1949. In total, it is estimated that about 2,500 – 3,000 Jews migrated from China to Australia between 1945 and 1953.
Listen to their Eat, Pray, Naches and migration stories
Migration
Morris talks about his life growing up in Shanghai, about the Russian Jewish community in China and how it was affected by the Japanese occupation and later the rise of Communism. Although his parents could take very little to Australia when they migrated, he considers himself very fortunate to have come here.
Eat
Natanya explains how the Jewish community is obsessed with food and how her recipes honour her past. Morris talks about chopped liver and how his mother made it the best.
Pray
Both Morris and Natanya talk about the traditions that are important to them and how they have been passed down from the generations.
Naches
It is all about their family, lots of grandchildren and being called "Morrie".