Recycling improvement program
Receive expert guidance and tools to achieve better recycling outcomes.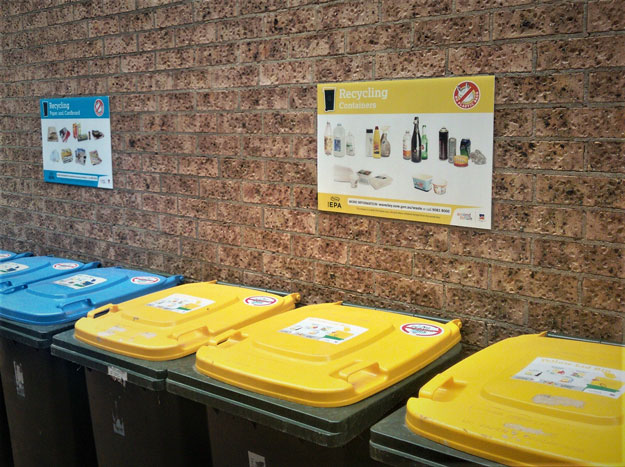 Council has developed a program to improve recycling rates and reduce contamination in the kerbside bins. Clean streams ensure recyclable items can be recycled after they are collected.
The Recycling Improvement Program targets medium to large apartment buildings or buildings that require extra support with waste and recycling infrastructure and education. To date, 8 rounds of the program have been delivered to more than 130 buildings, resulting in an average reduced contamination rate in the yellow and blue recycling bins of 50%. This project is a NSW Environment Protection Authority, Waste Less, Recycle More initiative, funded from the waste levy.
Participating buildings receive for FREE:
Bin audits to identify main contaminants in the recycling bins pre and post interventions
Improved bin infrastructure
Signage for bins, bin rooms, chutes
Reusable recycling collection bags to help residents store recyclable materials in their apartment
Letters distributed to all residents
Expert waste assessments of common areas
Recommendations for further improvements
Recognition and promotion of participation in the program
Learning & knowledge-sharing opportunities
All participating buildings will work towards shared community objectives as we move towards a zero-waste community:
Reduce waste generation
Maximise diversion from landfill by 90% by 2030
Keep our streets clean and clear of rubbish
Learn more about Waverley Council's Environmental Action Plan.
This program is not currently accepting applications. Queries about the program can be sent to environment@waverley.nsw.gov.au