Bondi Surf Club Conservation and Upgrade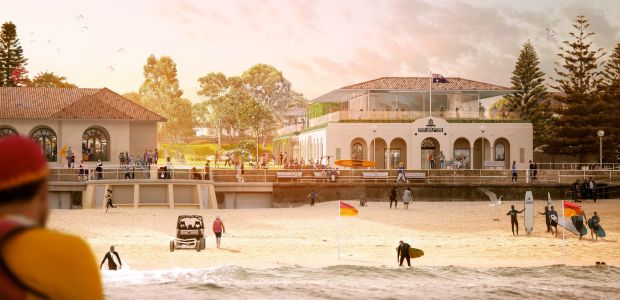 We're working with Bondi Surf Bathers Life Saving Club (Bondi Surf Club) to conserve and upgrade the historically significant Bondi Surf Club building. The project will create a fit for purpose life saving facility and includes the removal of bulky mock heritage additions and unsightly temporary work sheds that detract from the building's historic value.
The Bondi Surf Club is part of the NSW and national heritage-listed Bondi Beach Cultural Landscape. It is located next to Bondi Pavilion and desperately needs to address accessibility challenges, equal female to male facilities, space for nippers and to encourage interaction with the community.
Steering the design, are three Conservation Management Plans (CMP), each of which stated the 'intrusive', non-heritage elements of the Surf Club building need to be removed.
The project will:
remove intrusive parts of the existing building
highlight and restore historic elements
return space to the local community, improve public amenity, open accessibility, restore views, and increase public parkland and native vegetation
ensure Bondi Surf Club operations, training functions and vital community safety and rescue services are functional and sustainable
encourage greater community interaction
improve environmental sustainability
rectify accessibility issues
retain existing trees
The mock heritage elements (dark grey) must be removed as they have been identified as being 'intrusive' and detracting from the building's historic value.
Have your say
Community consultation was open between August and September 2020. The consultation report outlines the feedback gathered during this time.
DA approval
After the April Council meeting, the development application for the Bondi Surf Club Conservation and Upgrade was submitted in May 2021. In May 2022, the Sydney Eastern City Planning Panel approved Waverley Council's development application for the conservation and upgrade works.
This project received funding from the Australian Government and the NSW Government.