Waverley Park- Waverley Oval, No. 2 & 3
Consists of several areas: Area No. 1 is the Oval with its grandstand and turf cricket pitch; Areas No. 2 is the new synthetic turf field and No. 3 is a smaller sized field suitable for training or small sided games; other areas include 4 netball courts, a Bocce court, 2 public synthetic cricket nets, a treed hillside with glimpses of ocean and the Memorial Gardens.
Margaret Whitlam Recreation Centre
The Margaret Whitlam Recreation Centre, also known as Waverley Park Pavilion is set in the historic Waverley Park. The recreation centre features a grandstand, an indoor sports court and changing rooms, club rooms, community room and kitchen, and a café overlooking Waverley Oval to the sea. For more information go to the Margaret Whitlam Recreation Centre.
Location: Cnr Bondi Rd, Park Pde & Birrell St, Bondi NSW 2026
How to book: To hire Waverley Oval, no.2 or no.3 either email your request to venuehire@waverley.nsw.gov.au or telephone 9083 8300.
Public transport options: The 380, 381, & 333 bus routes drops off on Bondi Road where the Park is situated.
| Facilities: | | | |
| --- | --- | --- | --- |
| Main use | Sporta | Shade Trees | Yes |
| Barbecues | Yes | Shelter | Yes |
| Play equipment | Yes | Line markings | by arrangement |
| Public Toilets | Yes^ | Pool | No |
| Floodlights | Yes | Parking | Limited on-street |
| Goalposts | Rugby and Football by arrangement | Kiosk | Yes |
| Views | Some | Maximum Party Size | 100 |
How much does it cost:
| Waverley Oval | | |
| --- | --- | --- |
| General use | | |
| Weekday (7 hours or more) | per day | $710 |
| Weekend (7 hours or more) | per day | $830 |
| Weekday | per hr | $100 |
| Weekend | per hr | $120 |
| School athletics carnivals | | |
| Local primary schools | per day | $105 |
| Non-local primary schools | per day | $185 |
| Waverley Park No 2 Area (Synthetic) | | |
| Standard Rate | | |
| Peak 5:00pm close weekdays and all day onweekends | per hr | $185 |
| Off Peak 7:00am-5:00pm weekdays | per hr | $165 |
| Peak Half pitch 5:00pm –close weekdays and allday on weekends | per hr | $100 |
| Off Peak Half pitch 7:00am-5:00pm weekdays | per hr | $90 |
| Community Not for Profit | | |
| Peak 5:00pm-close weekdaysand all day on weekends | per hr | $92 |
| Off Peak 7:00am-5:00pm weekdays | per hr | $82 |
| Peak Half pitch 5:00pm –close weekdays and allday on weekends | per hr | $51 |
| Off Peak Half pitch 7:00am-5:00pm weekdays | per hr | $46 |
| Local Primary School rate | | |
| Half pitch School hours 9am- 3pm | per hr | $26 |
| Full pitch School hours 9am- 3pm | per hr | $51 |
| Non local Primary School rate | | |
| Half Pitch- School hours 9am-3pm | per hr | $36 |
| Full Pitch- School hours 9am-3pm | per hr | $62 |
| Waverley Park No 3 Area | | |
| Weekday | per hr | $37 |
| Weekend | per hr | $39 |
a Prohibitions in Park: alcohol, bicycles, skateboards, portable BBQs.
^ Find the public toilets closest to this park
Margaret Whitlam Recreation Centre
Waverley Oval
Waverley #2
Waverley #3
Synthetic cricket nets
Bocce court
Fitness Station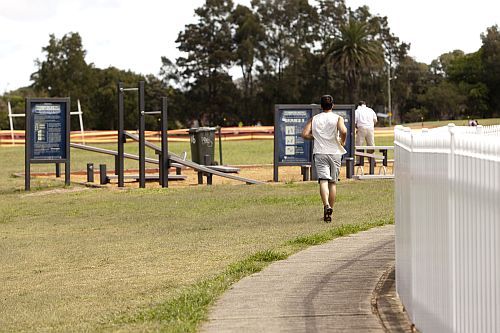 Playground
Memorial gardens