Community Safety Advisory Committee
Current Projects
The Community Safety Advisory Committee Meeting (CSAC), held on 9 December, considered a draft report on the use of CCTV as a tool for crime prevention, and undertook to establish a working group to undertake further investigation.
Council recently completed a project to help regenerate the top of Bronte Gully following a fire in January 2013.

Bronte Gully is a much-loved site within the Waverley LGA, and is home to many local species of flora and fauna. But it has also been a long-time hot spot for anti-social behaviour.

The project is part of an ongoing, long-term plan to regenerate and restore the gully, which is a green island nestled between Bronte Beach and the more urban areas of Bronte. The works will significantly increase the habitat and biodiversity of native flora and fauna in an area that was once used in the 1960s and 70s for landfill.

The restoration of Bronte Gully is now finalised.
Project outcomes
This project was an opportunity to restore this burnt patch and clear remaining weeds, then terrace and replant the site with native plants. Some of the key project outcomes include:

Restoration of an area of Littoral Rainforest (approximately 1,200m2) as well as 400m2 of other native plants.
An increase in habitat and resources available for the diverse fauna populations that inhabit the gully.
A decrease in the risk of fire and anti-social behaviour now that the overgrown weeds have been removed.
Engagement of contractors to carry out tasks that are unsuitable for volunteers.
Engagement with the local community and the expansion of volunteer Bushcare groups to assist in maintaining this newly restored area.
It is expected now that the Lantana and Giant Reed have been cleared, and the site regenerated, opportunities for anti-social behaviour will be reduced and informal surveillance increased. While this project has now been completed, Council will carry out ongoing works to help restore native vegetation in the gully.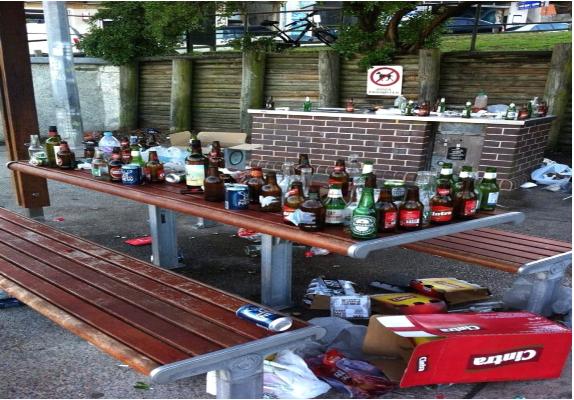 At the end of summer 2013, Council received complaints from the Waverley Local Area Command and residents about frequent noise arising from regular mass gatherings at Biddigal Reserve in North Bondi and drinking of alcohol in an Alcohol Prohibited Area. In addition, Council staff have reported having to clean up massive amounts of rubbish after these gatherings have taken place, including broken glass, food leftovers, vomit and urine.
Council is currently exploring viable solutions to minimise user conflicts at Biddigal Reserve and ensure it remains a recreational space for everyone. As such, Council will:
Replace outdated signs and install new signs that inform the public about prohibited behaviours at the Reserve.
Enforce a zero tolerance policy of alcohol consumption at the Reserve, in cooperation with Waverley Local Area Command.
Conduct an education campaign to further inform residents and visitors to Bondi Beach about non-tolerated behaviours at the Reserve.
Waverley Local Area Command - 9083 9899.
Meeting Agendas and Minutes

Meeting Dates and Summary of Minutes
8 February 2016
11 April 2016
6 June 2016
1 August 2016
26 September 2016
21 November 2016